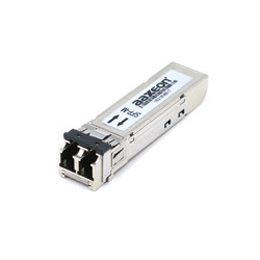 Antaira Gigabit Ethernet SFP Transceiver, Single Mode 10KM / LC / 1310nm (SFP-S10)
Part Number: SFP-S10

The SFP-S10 from Antaira is the high performance and cost-effective module for serial optical data communication applications specified for single mode of 1.25 Gb/s. It operates on +3.3V power. The module is intended for single mode fiber, operates at a nominal wavelength of 1310nm, and complies with Multi-Source Agreement (MSA) Small Form Factor Pluggable (SFP). Each module consists of a transmitter optical subassembly, a receiver optical subassembly, and an electrical subassembly. All are housed in a metal package and the combination produces a reliable component.
Features:
1310nm FP LD
Data Rate: 1.25Gbps, NRZ
Single +3.3V Power Supply
RoHS Compliant and Lead-free
AC/AC Differential Electrical Interface
Compliant with Multi-Source Agreement (MSA) Small Form Factor Pluggable (SFP)
Duplex LC Connector
Compliance with specifications for IEEE-802.3z Gigabit Ethernet at 1.25 Gbps
Compliance with ANSI specifications for Fiber Channel applications at 1.06 Gbps
Eye Safety (Designed to meet Laser Class 1, complies with EN60825-1)
Specifications:
Interface: LC (Single-Mode)
Data Rate: 1.25Gbps, NRZ
Distance: 10 Km
Wavelength: 1310 nm FP
Output Power: -9.5 ~ -3 dBm
Sensitivity: -21 dBm
Operating Voltage and SD Output: 3.3V TTL AC/AC
Dimensions (W x D x H): 13.70 x 56.50 x 8.95 mm (0.54 x 2.22 x 0.35 inches)
Warranty: 5-year Warranty
Included Items:
Additional Links:
Product Datasheet
Antaira Gigabit Ethernet SFP Transceiver, Single Mode 10KM / LC / 1310nm (SFP-S10)
---