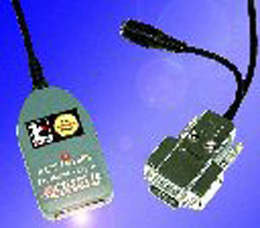 Actisys IrFM POS/ATM/Vending Machine Adapter (IR103SL)
Part Number: IR103SL
Compatibility: all IrDA equiped computer systems
IrFM POS Front End Adapter is a sub-assembly designed specifically to handle the lower level IrDA protocol layers for IrFM POS.It is a ready to use, assembled and tested hardware/firmware sub-assembly that handles IrPHY, IrLAP(including Fast Connect), IrLMP(including IAS for IrFM OBEX), and TinyTP. Physically,it can be as external RS232 adapter (IR103SL).
Features of IR103SL:
Simple wired serial interface to the hosting IrFM POS.
Automatically handles Fast Connection.(Newly published by IrDA, January 15,2003)without burdening the hosting IrFM POS.
Efficiently and automatically handles the minimum turnaround, maximum turnaround, and all time critical requirements.
Compliant to IrDA requirements for IrPHY and IrLAP layers.
Very low component count.Small and modular in construction.
Low cost, low power.
Additional Links:
Actisys IrFM POS/ATM/Vending Machine Adapter (IR103SL)
---