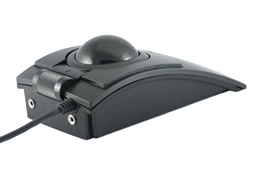 L-Trac USB Laser Trackball 5-Button 2-Jacks w/Wheel (CST2545-5W-RC)
Part Number: CST2545-5W-RC
Color: All Black (Case, Ball, Cable)
OS Compatibility: Windows ME/98SE/2000/XP/Vista/Win7; Mac OS9 and later; most versions of Linux.

Utilizing the latest in laser navigation technology, the L-Trac has selectable resolutions of up to 1600CPI, which are button selectable, allowing rapid changes of sensitivity. Includes 5 buttons and 2 external switch jacks and a scroll wheel.
The L-Trac utilizes Cypress's OvationONS II (TM) Laser Navigation System which is a breakthrough technology for precision motion-sensing applications. Built around Cypress's patented OptiCheck(TM) laser technology, this "laser tracking system-on-a-chip" offers high accuracy tracking at high speed and low power consumption. The product delivers fast, precise, responsive tracking without the trade-offs between power and performance that characterize traditional image-correlation sensors. This performance coupled with the natural contour of the L-TRAC makes these trackballs superior for all applications including general computing, gaming and CAD. The button selectable resolution settings allow rapid changes from high precision-high resolution to low precision-high speed. The optional scroll wheel is conveniently located just behind the center button making it easily accessed. Combined with Superior-X Button Control, this trackball offers great flexibility, performance and reliability.

The high performance laser navigation system is capable of tracking at greater than 30 inches per second, even at a 20G acceleration rate. This means the user can "fly" around the screen with a flick of the finger or snap from one side the the screen to the other with a healthy flick of the arm. Either way, this precision, high performance pointing device produces predictable, quick and precise motion that becomes intuitive in a few minutes of use. The optional scroll wheel is smooth and readily accessible, located above the center button. This L-Trac is fitted with two external switch jacks allowing the use of 5 buttons for added flexibility.

Superior-X Button Control software (included), allows the user to set different button settings depending on the application. This allows control of applictions, such as media players, directly from the trackball (volume control via scroll wheel, etc.), putting maximum control at your fingertips. Superior-X also allows keystrokes to be recorded and played back with the click of a button, allowing repetitive application tasks to be completed quickly.

The shape of the L-Trac acts as a natural hand rest mirroring the natural contour of your hand. Designed to easily accommodate either right, or left handed users and different size hands. No need to move you arm to rotate your wrist from side to side.

This performance coupled with the natural contour of the L-TRAC makes these trackballs Clearly Superior for all applications including general computing, gaming and Computer Aided Design (CAD). CAD users love it because you can drag a line one pixel even on today's high resolution displays of 1900X1080. Then, with a button stroke, they can fly around the screen to get general tasks done. Game players have called it an "Almost unfair advantage", citing the fingertip control and precision, high performance tracking.

The combination of Superior-X Button Control and the L-Trac offers unparralled flexibility, performance and reliability. Designed to minimize the effects of contamination build up and the resultant degradation of performance, this high performance laser trackball uses highly polished stainless steel rollers. It has been found by CST that the "ruby ball sliders" used in most optical trackballs, cause performance degradation when "gunk" builds up on them. This can be annoying when playing games on-line (or anytime). The "mirror polished" stainless steel rollers do not readilly collect "gunk" and are easily cleared by spinning the ball rapidly. The Dupont Delrin bearings are embedded with teflon and internally coated with a lifetime lubricant making the feel of this trackball extremely smooth and it's reliability very robust. The stainless steel rollers are extremely tough and give a super smooth feel. Life testing indicates that this unit may outlive most users. It, most probably, will be the last pointing device you will ever need to buy.

The shape of the L-Trac acts as a natural hand rest mirroring the natural contour of your hand. Designed to easily accommodate either right, or left handed users and different size hands. No need to move you arm to rotate your wrist from side to side. Flexibility, reliability and performance made in the United States of America by Americans.

The L-Trac is lead free and meets all known environmental requirements and is produced using green methods. Packaging is kept to a minimum and is 100 percent recyclable.

Specifications:
Case Dimensions: Width 3.75" (9.5cm), Length 6.75" (17.1cm), Height 1.75" (5cm)
Ball Size: 2.25"
Ball Type: high-density phenolic
Ball Suspension: Stainless Steel Rollers with Dupont Delrin Bearings
Construction: High Impact ABS
Resolution: User selectable 400, 800, or 1600 counts per inch
Tracking speed: >30 Inches Per Second
Acceleration: 20 Gs
Scroll wheel: Optional (Non-scroll wheel model#: CST2545-5
Warranty: One Year Limited part and labor
Switches: Five high quality switches rated at 5,000,000 operations with over-travel protection, with 2 external switch jacks.
Cable Length: 6ft (180CM)
Operating Temp.: 0 to +50 C
Storage Temp.: -20 to +60 C
Humidity: 0 to 95% Non-Condensing
Certifications: CE Mark, FCC Laser CLass 1, UL, RoHS
Compatibility
Windows 7, Windows Vista, Windows XP, Windows 2000, Windows 98SE and ME, most versions of Linux, MAC OS9 and later. Any other USB 2.0 Full Speed compatible operating system such as Sun Solaris.
Also available without a scroll wheel, part number: CST2545-5
Additional Links:
Superior X Software (.zip)
Manual (.pdf)




L-Trac USB Laser Trackball 5-Button 2-Jacks w/Wheel (CST2545-5W-RC)
---