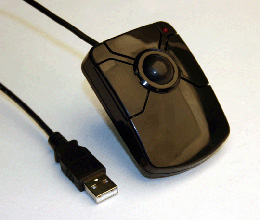 CST MicroTrac Mini Trackball (CST650)
Part Number: CST650
OS Support: Windows 98SE/ME/2000/XP; Mac OS9, OSX; Some Linux and SUN
Color: All Black (Case, Ball, Cable

The miniature case of the MicroTrac allows the user to hold the trackball in the palm of the hand minimizing fatigue. The MicroTrac also has rubberized feet allowing it to be used on the desktop like a regular trackball. It is designed to easily accommodate both right and left hand users as well as different size hands.
Using built-in dynamic motion enhancement, this miniature Trackball is engineered to give single-pixel control while still having the ability to move to the other side of the screen with a flick of the finger. Roll the ball faster and see the cursor speed across the screen, move the ball slowly and you get single pixel accuracy.

This three button trackball requires no special drivers or software. Middle button acts as Drag-Lock and Scroll-Lock combination just like our most popular models.

With the MicroTrac you can work precisely and comfortably for hours at a time. The Drag Lock feature makes this product more comfortable by eliminating the need to hold down a button to highlight or select items. Simply hit the Drag Lock Button and the button stays locked until hit a second time. Relax and cruise the internet with this small, unique pointing device.

CST650: Black case, black cable and black ball. USB 6 foot straight cable with USB to PS2 adapter.
Compatible with: Windows 98SE, ME, 2000 and XP as well as MAC OS9, MAC OSX and all USB 1.1/HID 1.0 compatible operating systems such as some versions of Linux and SUN.
Mechanical Specifications:
Case Dimensions: 2" W (50mm), 2.75" L (71mm), 1.20" H (30mm)
Ball Size: 19mm
Hub Material: Brass Alloy
Shaft Material: V-Groove Brass Alloy
Drive Ratio: 5.2 - 1
Bearing Type: Bushing
Bearing Material: Dupont Delrin
Bearing Maximum Rated Load: 2 lb. operating, 5 lb. static
Lubrication: PEFE/PTFE base
Estimated Bearing Life: Exceeds 10 million revolutions
MTBF: 17,000 hours* (*Calculation based on 100% duty cycle at 12 RPM average use speed.)
Additional Links:
Manual (.pdf)
Cleaning
Superior X Software (.zip)
CST MicroTrac Mini Trackball (CST650)
---