FireWire Cards
FireWire ExpressCards
---
FireWire PCI Express
---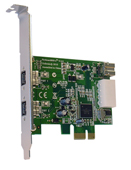 Unibrain FireBoard800-e V.2 1394b OHCI PCI-Express Adapter (1232)
Part Number: 1232
Supports: Windows XP/Vista/7/8, 2003/2008 Server, 32/64 bit; Mac OS X 10.4 or later; Linux

FireBoard800-e V.2 is Unibrain's next generation of 1394b PCI Express x1 add-in interface card, based on LSIs latest 1394b PCI express combined OHCI PHY and Link controller.
This new revision of Firebord800-e also incorporates some new functionality features like 1394b screw lock cables support and improved external power connectivity, adding further stability and usability in industrial and machine vision environments.
---
---

Koutech 6-Port FireWire 1394b + Hi-Speed USB 2.0 Combo PCI Express (x1) Card

The PEFU330 PCI Express Card offers the ability to add hardware features into their PC in a very painless and simple way. The PCI Express architecture is a cost-effective, low-pin count interface offering maximum bandwidth per pin, reducing the cost and design complexity and enabling smaller form factors. Compatible with Windows 2000/XP/2003, Linux
---
FireWire PCI Cards
---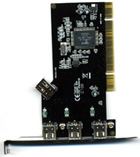 FireWire 1394A 3+1 Port PCI Card AGERE Chipset

The Agere/Lucent L-FW323-06 3+1 Port PCI Firewire 1394a Controller Card with Cable allows you to easily add high speed firewire ports to either your PC or Mac computer. The One for multiple FireWire WebCams and Machine Vision FireWire Cameras as well as all Audio devices. It provides three external and one internal firewire ports on the card, and is compatible with either PC, Mac or Linux computers with a PCI v. 2.2 slot. Comes with IEEE-1394a FireWire 6-pin to 4-pin cable.
---
---