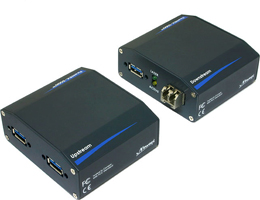 Newnex USB 3.0 Optical Repeater (FireNEX-5000)
Part Number: FireNEX-5000
OS Support: PCs, Macs and Linux with USB 3.0 ports.

The FireNEX-5000 has taken USB 3.0 over 100+ meters. It is the world's first USB 3.0 optical repeater! It uses industry standard optical fiber and is plug and play. This opens many possibilities for the use of USB 3.0 in Machine Vision, security and scientific fields. Without a repeater, the practical length limit for a USB 3.0 cable is 3 meters.
A FireNEX-5000 set includes one FireNEX-5000 device unit (upstream) and one FireNEX-5000 host unit (downstream), a user's manual and a single FIRENEX-5POWER 5V power supply. A single FIRENEX-5POWER is included to power the device end which requires an external power source. The host unit may be bus powered by the computer. If power cannot be provided by the computer then a power supply such as the FIRENEX-5POWER will need to be purchased. The optical cable and USB 3.0 cables are not included. FireNEX-5000 comes with one-year manufacturer warranty.

Specifications:
USB 3.0 signals up to 100+ meters
Standard optical port (LC connector)
Two Standard USB 3.0 A ports (Upstream unit)
One Standard USB 3.0 A port and One Standard USB 3.0 B port (Downstream unit)
Works with PCs, Macs and Linux
Light Weight: 173 g
Compact size: 79 x 69 x 31 mm
Data rate: 5000 Mbps
Plug and Play
ROHS Compliant
FCC and CE Compliant
Industrial standard screw locking for all USB ports


FireNEX-5000™ is a registered trademark of Newnex Technology Corp. All rights reserved.
Additional Links:






Newnex USB 3.0 Optical Repeater (FireNEX-5000)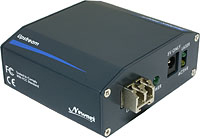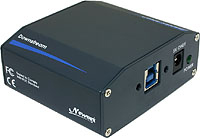 ---