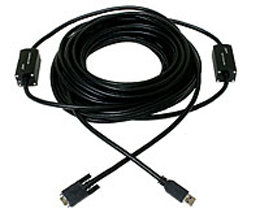 FireNEX-uLINK USB 3.0 A to B Repeater Cable, 14m/45ft (FireNEX-ULK-14M)
Part Number: FireNEX-ULK-14M
Length: 14 meters / 45 feet
Connectors: USB 3.0 A to B
Picture is for reference only, different connectors then shown
The FireNEX-uLINK is the world's first USB 3.0 Active Repeater capable of extending SuperSpeed USB/USB 3.0 signals up to 14 meters in length. As an in-cable device, the FireNEX-uLink simplifies the need for long distance USB 3.0 connections. The recommended practical length limit for USB 3.0 is three meters. The FireNEX-uLINK quadruples this distance, all without external power or drivers.
The true significance of the FireNEX-uLINK is in its design. The FireNEX-uLINK and all its features are housed in a durable, small enclosure on the length of the cable. The device requires no external power sources, Plug and Play functionality, and low power consumption. In terms of usage, the FireNEX-uLINK is no more difficult than a normal USB cable. The ease of use and extensive functionality is the essential foundation of the FireNEX-uLINKs design.

Specifications:
USB 3.0 signals up to 14 meters
Full-speed USB 3.0 at 5.0 gbps
Works with PCs, Macs and Linux
Bus powered, no external source needed
Plug and Play
ROHS Certified
EMI Shielded
Additional Links:
FireNEX-uLINK USB 3.0 A to B Repeater Cable, 14m/45ft (FireNEX-ULK-14M)
---