Hybrid Fiber HDMI Active Optical Cables (AOC)
HDMI Active Optical Cables (AOC): HDFC-100, HDFC-200
The HDFC line of cables gives slim, light, easy installation just like a general copper HDMI cable. With low power consumption technology in OPTICIS, the HDFC cables can be operated by DDC 5V in HDMI port without any external DC power or USB power.
---
HDFC-200:
---
---
---
HDFC-100:
---
---
---
[Connection Tip]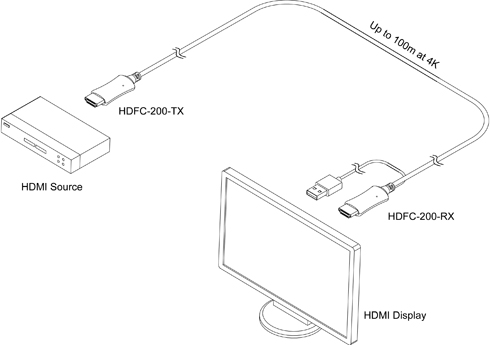 [ Ordering Information ]
Model Number : HDFC-100-___ ; HDFC-200-___
___ : Extension Length in meters up to 100m. The standard lengths are 10m, 15m, 20m, 30m, 40m, 50m, 70m and 100m.
Please contact our sales representatives for more information.
---