Express All-Fiber DVI Cables
M1-1000
All-optical DVI cable, M1-1000 has four (4) fibers for TMDS transmission and three (3) fibers for DDC/HDC and transmits uncompressed WUXGA (1920x1200) 60Hz, 1080p signal up to 500m (1640feet). It also realizes perfect electrical galvanic isolation with all-optical cabling.
---
---
[ Connection Diagram ]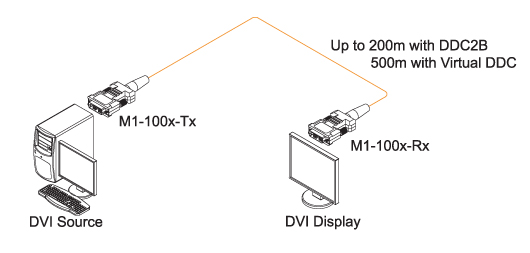 strong>[ Ordering Information ]

Model Number : M1-1000-___

___: Extension Length in meter up to 500m. The standard lengths are 10m, 20m, 30m, 50m, 70m and 100m.
For other lengths, Please contact our sales representatives for more information.
---