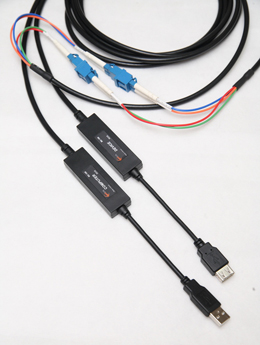 Opticis Fiber Optic USB Extension with Detachable Fiber - 30m/98ft (M2-100D-30)
Part Number: M2-100D-30
Length: 30 meter / 98 feet

Opticis Stretch USB Technology - USB extension - Complete optical electronic isolation with detachable, break-out fiber cables. Call for custom break out lengths, standard breakout is one (1) meter from host.
The M2-100D-30 allows the MAC/PC user to locate USB V1.1 peripherals up to 100 feet (30m) from the processor with a simple and easy to install point-to-point USB cable. Works at USB 1.1 (12Mbps) speeds, compatible with USB 2.0 devices.

The cable extension consists of two pairs of optical fibers that break out and can be detached, allowing easy installation in any environment. The fiber cables provide not only extension, but light weight and RFI/EMI immunity (optical data signal and power isolation - standard ... benefits that are significant in industrial environments). Ideal for workstations and server farm control rooms, the M2-100D-30 comes with a universal AC/DC remote power adapter to power the downstream pod. Suitable for use with electrical conduits and raceways.

Additional standard lengths available: 3 meter, 10 meter, 20 meter, 40 meter. Please call for availability and pricing.
Additional Links:
Opticis Fiber Optic USB Extension with Detachable Fiber - 30m/98ft (M2-100D-30)
Additional Power Supply (Opticis products come with a power supply)
---
---