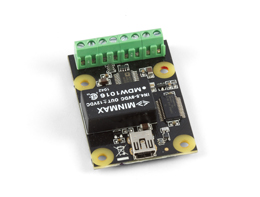 Phidget Analog 4-Output (1002)
Part Number: 1002

The PhidgetAnalog 4-Output Produces a voltage over -10V to +10V. This voltage will be asserted up to +-20mA. An error will be reported when this current is exceeded, and the voltage the customer is getting is no longer accurate. The voltage is produced with 12 bit resolution (4.8mV).
The board is not isolated and all 4 channels share a common ground.
All the power is supplied by the USB bus.

Product Features:
Produces a set voltage from -10V to +10V
Current up to ±20mA per channel.
You can connect up to 4 devices.
Can be used to control LED and Fluorescent Dimmers, Valve Actuators, Motor Controls.
Connects directly to a computer's USB Port.
Comes packaged with:
A 3018 - Mini-USB Cable 180cm
A Hardware mounting kit (4 nuts and bolts, 4 plastic spacers)
Additional Links:
Product Manual
Mechanical Drawing
Download 3D Step File
Programming Resources
Phidget Analog 4-Output (1002)
---