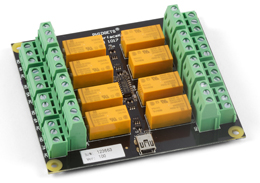 Phidgets Interface Kit 0/0/8 (1017)
Part Number: 1017

The PhidgetInterfaceKit 0/0/8 provides Small Signal Relays with 8 Relay Outputs, rated at 250VAC, or 2 Amps, for a maximum of 65 Watts. It is typically used for switching small signals, as opposed to high current applications. For high current applications see the 1014 - PhidgetInterfaceKit 0/0/4.
The relays are Single Pole Double Throw (SPDT).
Maximum DC Switching Voltage: 220VDC
Maximum DC Switching Current: 2 Amps
Maximum AC Switching Voltage: 250VAC
Maximum AC Switching Current: 2 Amps

Note: When a relay is in one switch position for a period of time, oxidation of the open contact(s) can occur. Depending upon the internal coating material of the contacts, oxide films of varying density will be displaced upon the surface of open contacts; this film acts as an insulator to current flow. When the relay is switched, a certain amount of current flowing through the contacts, known as the wetting current, is required to remove the film of oxides and ensure proper conduction. The wetting current required to operate this relay is low enough for use in signal switching applications.

Product Features:
Allows the digital control of 8 Double-Pole Double-Throw (DPDT) relay outputs
Used to switch small signals
Rated at 250VAC, or 2 Amps, for a maximum of 65 Watts
Connects directly to a computers USB port
Comes packaged with:
A 180cm USB Cable
A mounting hardware kit
Additional Links:
Product Manual
Programming Resources
Phidgets Interface Kit 0/0/8 (1017)
---