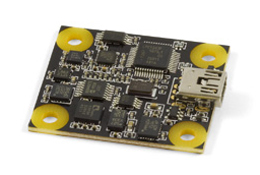 Phidget Spatial Precision 3/3/3 High Resolution (1044)
Part Number: 1044
The PhidgetSpatial Precision 3/3/3 combines the functionality of a 3-axis compass, a 3-axis gyroscope, and a 3-axis accelerometer all in one convenient package. It has enhanced precision in the accelerometer when measuring less than ±2g, and enhanced gyroscope precision at speeds less than 100°/s. The transition from high precision to low precision mode and back is completely seamless and automatic.
Product Features:
3-Axis Compass, 3-Axis Gyroscope, 3-Axis Accelerometer.
High Resolution accelerometer measurements at < ± 2g
High Resolution gyroscope measurements at < ± 400°/s (< ± 300°/s on the Z-Axis gyroscope)
Connects directly to a computer's USB Port.
Product Specifications
Acceleration Measurement Max: ± 2 g
Acceleration Measurement Resolution: 76.3 μg
Acceleration Bandwidth: 497 Hz
Accelerometer White Noise σ: 280 μg
Accelerometer Minimum Drift σ: 40.6 μg
Accelerometer Optimal Averaging Period: 398 s
Gyroscope Speed Max (X-Axis, Y-Axis): ± 400°/s
Gyroscope Speed Max (Z-Axis): ± 300°/s
Gyroscope Resolution (X-Axis, Y-Axis): 0.02°/s
Gyroscope Resolution (Z-Axis): 0.013°/s
Gyroscope White Noise σ: 0.095°/s
Gryoscope Minimum Drift σ: 0.0042°/s
Gyroscope Optimal Averaging Period: 7743 s
Comes Packaged With:
A 3018 - Mini-USB Cable 180cm
A Hardware mounting kit (4 nuts and bolts (M3), 4 plastic spacers)
Additional Links:
User Guide
Accelerometer Primer
Download 3D Step File
Programming Resources
Phidget Spatial Precision 3/3/3 High Resolution (1044)
---