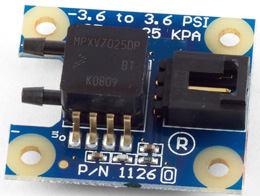 Phidgets Differential Gas Pressure Sensor ± 25kPa (1126)
Part Number: 1126

The Differential Pressure Sensor is a dual ported gas pressure sensor that measures the pressure difference between the two ports. It can measure both positive and negative pressure from –25kPa to +25 kPa.
Product Features:
Measures the pressure difference between two pressure intakes.
Measures both negative and positive pressures.
Pressure range: -3.6 psi (-25 kPa) to +3.6 psi (+25kPa)
Connects to any device with an Analog Input.
Comes packaged with:
Additional Links:
User Guide
Mechanical Drawing
Download 3D Step File
Phidgets Differential Gas Pressure Sensor ± 25kPa (1126)
---