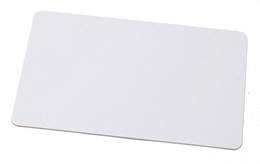 Phidgets RFID Tag - Credit Card Sized (3008)
Part Number: 3008

A credit card sized EM4102 RFID tag. Fits in standard wallets.
This basic RFID Tag is used mostly as an identity card. The card comes with a 40-bit unique ID and cannot be re-programmed. This is a slightly flexible, blank, white card with a gloss finish.
Additional Links:
Mechanical Drawings
Download 3D Step File
Phidgets RFID Tag - Credit Card Sized (3008)
---