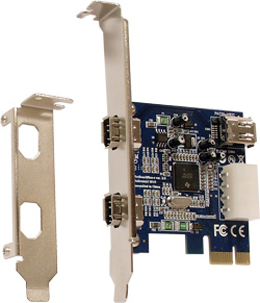 Unibrain FireBoard Blue-e 2-port 1394a OHCI PCI-Express Adapter (1213)
Part Number: 1213
OS Supported: Windows XP/Vista/7, 2003/2008 Server, 32/64 bit; Mac 10.4.x or later; Linux.

FireboardBlue-e is a 2-port, single chip, OHCI compliant 1394a PCI express adapter that provides plug-n-play connectivity for FireWire devices and peripherals.
FireBoardBlue-e is a fast and reliable PCI Express x1 add-in interface card for all external FireWire-enabled devices. Now, Digital Cameras, Hard Drives, CD/DVD drives and Digital Camcorders can be connected to FireboardBlue-e in a snap.

Features:
Texas Instruments XIO2200A PCI Express to PCI Bus Bridge.
OHCI Compliant/Compatible with any FireWire device or peripheral.
400Mbps – up to 50MB/sec data rates.
Internal "big-IDE" power connector.
Enables data transfer of real time copying for large files using Unibrain's FireNet™ networking driver.
Due to its 4 isochronous transmit/receive contexts the FireboardBlue-e™ host adapter has the exceptional feature to simultaneously control and display up to 4 FireWire digital cameras.
RoHS/WEEE compliant.
Operating Temperature: 0~65' C
Humidity Operating : 0 ~ 80% RH, Non-condensing.
Low profile bracked included.

IIDC FireWire Digital Cameras
FireBoardBlue-e is ideal for IIDC industrial and machine vision applications. Using Unibrain's Fire-i Software you can connect up to 63 firewire cameras and simultaneously control and display up to four of them, or more, using Unibrains Multi-DMA functionality, thus providing an advanced interface solution for machine vision, security, GPS mapping and other professional applications.

External FireWire Hard Drives
You can connect a multiple array of external FireWire devices such as CD-R/W or DVD drives easily. Just plug-in any SBP2 FireWire External Hard Drive to the installed FireboardBlue-e adapter and immediately add storage to your PC. Unibrains FireboardBlue-e has been thoroughly tested to operate seamlessly with Unibrain's entire range of External FireWire Hard Drives as well as any third party external storage devices.

FireWire Networking
FireboardBlue-e is suitable for network applications (gaming or other). Using Unibrains FireNet Software you can connect two or more computers in a peer-to-peer Network at 400Mbps.

Digital Video
Simply connect any DV Camcorder to your PC via Unibrain FireboardBlue-e Host Adapter. Capture, produce and share your digital video, with any digital video application from your PC.

OS Supported:
Windows XP/Vista/7, 2003/2008 Server, 32/64 bit.
Mac 10.4.x or later.
Linux

Part Number: 1213
Additional Links:
Download Manual





Unibrain FireBoard Blue-e 2-port 1394a OHCI PCI-Express Adapter (1213)
---