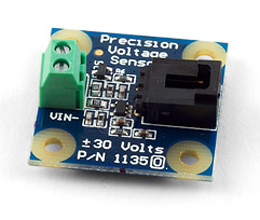 Phidgets Precision Voltage Sensor (1135)
Part Number: 1135

The Voltage Sensor measures the differential voltage between the input terminals and outputs the difference proportionally. The maximum differential voltage that can be measured accurately is ±30V.
Features:
Measures voltage from -30V to +30V DC
Typical Error: ±0.7%
Connects to any device with an Analog Input.

SpecificationsL
Sensor Properties:
Sensor Type: Voltage (DC)
Sensor Output Type: Non-Ratiometric
Voltage Difference Max: ± 30 V DC
Relative Input Voltage Max: ± 40 V DC
Voltage Resolution: 73 mV DC
Measurement Error Max: 2 %
Sensor Response Time Max: 10 ms
Voltage Offset Max: ± 100 mV DC
Additional Links:
User Guide
Mechanical Drawings
Download 3D Step File
Phidgets Precision Voltage Sensor (1135)
---