Icron USB 2.0 Ranger 2204 Four-port USB Extender over Cat 5e, 100m (00-00256)
Part Number: 00-00256, Ranger 2204

The USB 2.0 Ranger® 2204 is a four port USB 2.0 high speed extension solution, enabling USB 2.0 connections at up to 480Mbps over 100m/330ft of Cat 5e cabling. The Ranger 2204 provides an integrated remote four port USB 2.0 powered hub delivering standard 500mA power and supporting all USB 1.1 and 2.0 device types including Isochronous web cams.
The USB Ranger® 2204 provides true USB 2.0 extension at up to 480Mbps over Cat 5e cabling, without the need of additional software drivers. A true plug-and-play solution, the Ranger 2204 is compatible with all leading operating systems, and supports all USB 1.1 and 2.0 device types from high-speed web cams, hard drives, printers, scanners, audio devices, touch screens, digital cameras and game controllers. An integrated four port hub allows for extension of up to four USB devices without the need for an additional hub.

Ranger 2204 Features:
Extends USB 2.0 high-speed and USB 1.1 (low-speed, full-speed) devices.
Operates with USB 1.1 and USB 2.0 hosts
Supports all USB devices up to 480Mbps
True plug and play. No drivers required
Supports all major operating systems: Windows, Mac OS X, and Linux
Uses a standard solid core Cat 5e cable for easy installation.
Number of devices can be increased using additional USB hubs.
FCC Class B
Rugged metal enclosure.
Specifications:
Range 100m (330 ft) over Cat 5e (or better) cable.
Range 330 ft (100m) over Cat 5e (or better) cable.
LEX unit USB connector1 x USB Type B.
LEX unit Link connector1 x RJ45
REX unit Link connector 1 x RJ45
REX unit USB connector 4 x USB Type A
Maximum USB devices supported 14 USB devices or 3 USB hubs with 11 USB devices.
Power adapter Maximum Rating 5V DC @ 3A
Current available to USB at REX 4 x 500mA
LEX and REX unit dimensions 3.94" x 2.99" x 1.02" (100 mm x 76 mm x 26 mm)
Operating temperature range 0°C to 50°C
Total system shipping weight 2.0 lbs. (0.9 kilograms)
Regulatory testing FCC (Class B), IC (Class B), CE
In The Box:
Local Extender (LEX)
Remote Extender (REX)
2 meter USB cable
Quick Start Guide
International power adapter with country specific cord (North America, EU, UK, or Australia)
Two year warranty
Additional Links:
Data Sheet
User Guide
Icron USB 2.0 Ranger 2204 Four-port USB Extender over Cat 5e, 100m (00-00256)





[ Ranger 2204 Connection Diagram ]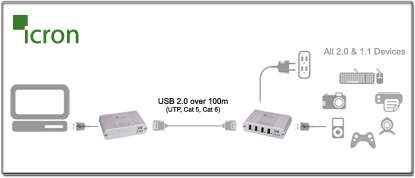 ---