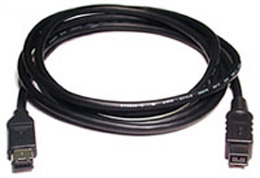 Newnex 9-pin to 6-pin FireWire Cable - 10m/32ft (CFB-9610-B)
Part Number: CFB-9610-B
Connectors: 9-pin to 6-pin
Length: 10 meter / 33 feet
Connects any 6-pin FireWire 400 (1394a) device or computer to a 9-pin FireWire 800 (1394b) device or computer.
*The standard max. length is 4.5m. Cables longer than 4.5m may not work with all devices.
Additional Links:
Newnex 9-pin to 6-pin FireWire Cable - 10m/32ft (CFB-9610-B)
---