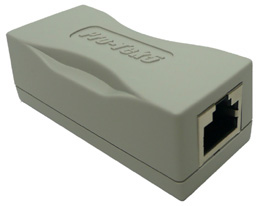 Baaske Protek 5 Gigabit Isolator 5kV
Galvanic Ethernet Isolation
This device has been developed to avoid unexpected currents and ground – loops over the network. The Pro-Tek5 Systems Isolator affords a convenient method of creating 5KV isolation to equipment located in an Ethernet cabling system.
The Pro-Tek5 Systems Isolator provides IEEE802.3 compliant return loss and insertion loss performance while meeting the most stringent isolation requirements. Reinforced insulation is used to achieve a high level of isolation for applications with working voltages up to 300V.
UL94-V0 compliant materials have been used for production. The device also meets UL60950 for 5KV isolation at working voltages up to 300Volts.
Additional Links:
Baaske Protek 5 Gigabit Isolator 5kV