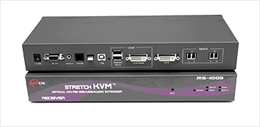 Opticis Optical KVM Extender (M5-1003-TR)
Part Number: M5-1003-TR

M5-1003-TR offers extremely long extension of DVI, USB, serial control data and audio up to 2,000m (6560feet) over single-mode and 500m (1640feet) over multi-mode fibers with a pair of duplex LC connectors. It is tremendously long over the limits of copper extensions like a few of meter of DVI and USB.
Designed for high resolution performance, it guarantees lossless image quality and no frame dropping to deliver perfect graphic data transmission up to WUXGA (1900x1200) at 60Hz refresh rate. It is designed to multiplex and de-multiplex DVI, USB, RS232, and stereo audio so as to be linked over four (4) single-mode LC fibers at 1310nm/1550nm. It provides Self-EDID programming feature that makes the installation of M5-1003-TR more easy and flexile at any variable resolution.
Optionally, we could include convenient remote console switch and indicator for selecting local control or remote control.

Features:
Real time operation without data compression.
Selectable a priority of an equipment (Local/Remote control).
Enable to control PC remotely when an equipment is operated by multiple PC.
Provides RS-232, DIO, Audio port and USB.
High distinction by remote control keypad LED.
Transmits DVI, USB, Audio and RS-232 signal over a pair of duplex LC single and multi-mode fibers:
Single-mode: Up to 2,000m (6560feet)
Multi-mode: Up to 500m (1640feet)
Supports up to WUXGA (1920x1200), 60Hz
Provides DVI/USB port for local display, keyboard and mouse.
Provides Self-EDID feature (Read from display and store it in transmitter).
Offers 4 channel USB1.1 hub in the receiver.
Offers remote console switch and indicators optionally.
Supports RS-232 and Stereo audio.
Rack mountable in 19" Half-rack.
Operating temperature: 0 ~ 50℃.
Storage temperature: -30 ~ 70℃.
Input power: +12V 3A.
Size (WDH): 320 x 130 x 44mm.
Shipping Group:
Transmitter, Receiver: 1set.
+12V 3A adapter: x2
AC cord: x2
User manual
Remote console switch and LED indicator (Option)
Additional Links:
Brochure
Data Sheet
User Manual
Opticis Optical KVM Extender (M5-1003-TR)
[ Connection Tip ]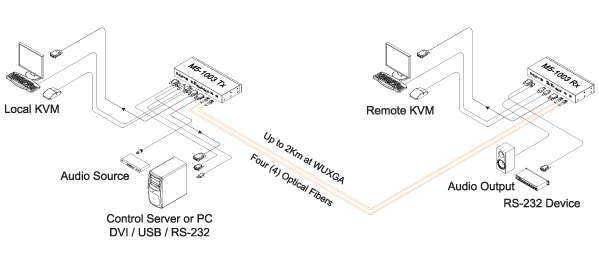 ---