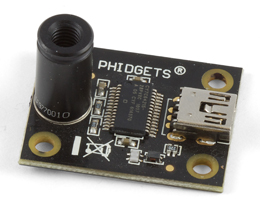 Phidget Temperature Sensor IR (1045)
Part Number: 1045

The 1045 is an intelligent non-contact temperature sensor with a 10° field of view and a USB interface for easy connection to your computer. It takes an average of the temperature of objects placed within its cone of detection.
The 1045 outputs a continuous data flow every 32ms with an active alarm running in the background.; the temperature output data for distant objects ranges from -70°C to 380°C.

This particular revision of the 1045 has the circuitry placed on the reverse side of the board, to reduce measurement errors caused by self-heating.

Product Features:
Infra Red thermometer for non contact temperature measurements.
Thermometer is Factory calibrated.
Temperature range of -70 to 380°C
Connects directly to a computers USB Port
Some Applications:
Sensing and measuring surface temperatures without surface contact.
Alarming alert for over temperature conditions.
Temperature sensing element for residential, commercial and industrial building air conditioning.
Human or animal presence detection.
Movement detection.
Body temperature measurement.
Comes packaged with:
A 3018 - Mini-USB Cable 180cm
A Hardware mounting kit (4 nuts and bolts (M3), 4 plastic spacers)
Additional Links:
User Guide
Mechanical Drawings
Download 3D Step File
Programming Resources
Phidget Temperature Sensor IR (1045)
---