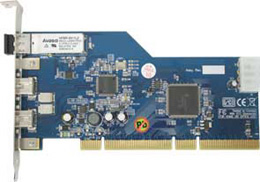 Unibrain FireBoard-800 Glass Optical Fiber (LC-type) to PCI Host Adapter (1231)
Part Number: 1231
Supports: Windows XP/Vista/7/8, 2003/2008 Server, 32/64 bit; Mac OSX 10.4; Linux

FireBoard 800 GOF-LC is an IEEE-1394b (Firewire 800) to PCI Host adapter, which has been designed to meet the most demanding requirements of todays 1394b bus designs. Through the Glass Optical Fiber (GOF) port type LC, the S800 (800Mbps) transmission of 1394b bus extends up to 550 meters distance. The Fireboard 800 GOF-LC has two (2) 1394b bilingual copper ports and one optical port LC type.
FireBoard 800 GOF-LC is a 64bit PCI OHCI Host Adapter capable of exceptional 800Mbit/sec performance, providing the throughput and bandwidth to move data efficiently and quickly between the PCI and 1394 bus. This board also provides outstanding ultra-low power operation and intelligent power management capabilities, being compliant with all the latest 1394, OHCI and PCI specification/standards.
Fireboard 800 GOF-LC operates as the interface between a selectable 64-bit 33-MHz or 32-bit 33-MHz PCI Local Bus and a compatible 1394b bus. Its PHY-layer device is capable supporting serial data rates of s400 and s800.

Features:
Fully Supports Provisions of IEEE P1394b revision 1.33 at 1 Gigabit Signaling Rates.
Fully Supports Provisions of IEEE 1394a-2000 and 1394-1995 Standard for High Performance Serial Bus.
Multi-Mode-Fiber (MMF) Glass optical fiber cable support. Maximum link length 550 meters.
Fully Compliant with OHCI Requirements
Two (2) Fully Backward Compatible, (1394a-2000 Fully Compliant) Bilingual P1394b Cable Ports operating at 100/200/400/800 Megabits per Second (Mbits/s) and one (1) 1394b optical port with LC type connector.
Cable Power Presence Monitoring.
Cable Ports Monitor Line Conditions for Active Connection to Remote Node.
3.3V and 5V PCI bus signaling.
33-MHz/64-Bit and 33-MHz/32-Bit selectable PCI interface.
Power Management Interface Specification.
Implements PCI burst transfers and deep FIFO to tolerate large host latency:

Transmit FIFO-3K asynchronous
Transmit FIFO-2K isochronous
Receive FIFO-2K asynchronous
Receive FIFO-2K isochronous

Full Duplex Data Rate at 100/200/400/800 Mbps.

Fireboard 800 GOF-LC can transmit FireWire data at rates of up to 800Mbps, equivalent to 100MB/sec extending the 1394b bus up to 550 meters distance!

IIDC Firewire Digital Cameras
Fireboard-800 is ideal for IIDC industrial and machine vision applications. Using Unibrain's Fire-i Software you can connect up to 63 firewire cameras and simultaneously control and display up to four of them or more, using Unibrain's MultiDMA functionality, thus providing an advanced interface solution for machine vision, security, GPS mapping and other professional applications.

External Hard Drives and SBP2 storage devices
You can connect a multiple array of external FireWire devices such as CD-R/W or DVD drives easily. Just plug-in any SBP2 FireWire External Hard Drive to the installed FireBoard 800 GOF-LC adapter and immediately add storage to your PC. FireBoard 800 GOF-LC has been thoroughly tested to operate seamlessly with a big range of External FireWire Hard Drives as well as any third party external storage devices.

OS Supported :
Windows XP/Vista/7/8, 2003/2008 Server, 32/64 bit, using Unibrain's ubCore 1394b low level drivers
Mac OSX 10.4 or later.
Linux

Part Number: FireBoard 800 GOF-LC bulk: 1231
Additional Links:
Download Manual
Unibrain ubCore 1394b low level drivers




Unibrain FireBoard-800 Glass Optical Fiber (LC-type) to PCI Host Adapter (1231)
---