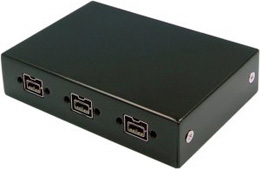 Unibrain FireRepeater 800 PRO 4-port Repeater (2502)
Part Number: 2502

FireRepeater-800 PRO 4 port repeater provide the ability to connect up to four (4) firewire 1394b devices and its metallic compact case minimizes the risk of physical damage, ideal for industrial and machine vision applications.
The repeater incorporates locking 9 pin bilingual ports, multiple mounting points and an optional metal bracket to ensure an even more secure physical connection.
FireRepeater-800 PRO is based on two TSB81BA3D Texas Instruments 1394b PHY chips, providing fully reliable 1394b speed and configuration.
A wall mounting plate is provided optionally (see below for order part numbers).

Specifications:
Four (4) fully backward Compatible, (1394a-2000 Fully Compliant) Bilingual 1394b Cable Ports operating at 100/200/400/800 Megabits per Second (Mbits/s) with screw lock cable support.
Compact size: 93 x 62 x 22 mm.
DC Power connector: Walkman-type 2.0 mm DC
Power Input Range: DC 8V~30V, max. 1.35A. (Power supply available separately.)
Power Consumption: 1.5W max.
Full Duplex Data Rate at 100/200/400/800 Mbps.
Operating Temperature: 0 - 60 C.
Additional Links:
Optional Power Supply
Unibrain FireRepeater 800 PRO 4-port Repeater (2502)
Optional FireWire Power Supply
---
---