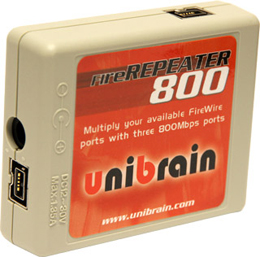 Unibrain FireRepeater 800 3-port 1394b FireWire Repeater (2501)
Part Number: 2501

FireRepeater 800 is a 3-port pocket-size Hub that allows you to add a 9-pin connection point into an existing link; extend FireWire Cable lengths (tested for up to 110 meters w/3 repeaters); adds or reinforces DC Power Supply capability of your FireWire connection.
Features:
FireRepeater 800 provides Three Fully backward compatible, (1394a-2000 Fully-Compliant) Bilingual 1394b Cable Ports at up to 800 Megabits per Second (Mbits/s).
Fully Supports Provisions of IEEE P1394b revision 1.20 at 1 Gigabit Signaling Rates
Fully Supports Provisions of IEEE 1394a-2000 and 1394-1995 Standard for High Performance Serial Bus
Fully Interoperable With Firewire and i.LINK Implementation of IEEE Std 1394.
Power consumption (at 12V DC): 0.5 W max
External 8-40V power supply input (Power supply available seperately).
Compact size.
Shielded plastic case.
Technical Specifications:
Compliance: IEEE-P1394b revision 1.20
Bus Speed: 100 / 200 / 400 / 800 Mbps
Ports: 3 (9-pin bilingual)
Physical Layer Device: Texas Instruments TSB81BA3D 1394b PHY chipset
Dimensions (cm): 7.2 x 5.9 x 2
Weight: 54 grams
Operating Temperature: 0'-65' Celsius
Humidity: 10%-90% RH, non-condensing
Ext. Power Input: Jack connector, 8 to 40 V DC
EMC specifications: Emissions: EN-55022, Immunity: EN-55024

Powering the Repeater:
FireRepeater 800 is powered by the FireWire bus DC voltage, coming from host adapters or other FireWire devices.
FireRepeater 800 is provided with a DC power input jack connector, which can be used when the FireWire connection does not provide DC power. This happens typically:
when the FireWire bus is converted to a 4-pin connection via a bilingual to 4-pin cable
when, no powering device is present, even from the FireWire interface. This is the case when using CardBus FireWire adapters or on some laptops with built-in interface

Even if the FireWire bus is already powered, the DC power input jack of the FireRepeater 800 can also be used to reinforce it. The FireWire bus voltage will adapt automatically when needed. A built-in diode avoids any risk of voltages conflict or reverse current flow.
Additional Links:
Optional Power Supply





Unibrain FireRepeater 800 3-port 1394b FireWire Repeater (2501)
---