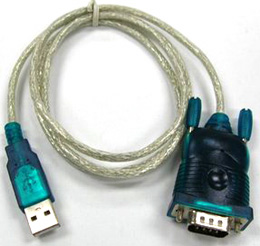 Vigor USB to Serial Converter (VUC-2102)
Part Number: VUC-2102
OS Support: Windows 98/98SE/2000/XP and Mac 8.6 and up.
The USB-to-Serial Converter is a low cost and high performance single chip solution. It provides a simple and easy way to use bridge/connectivity between the Universal Serial Bus (USB) and Serial (RS232) Port interface.
This product is designed for ideal connections to Cellar Phones, Digital Cameras, Modems, PDA's or ISDN terminal adaptors with over 1Mbps data transfer rate.
Features:
Fully compliant with USB 1.1.
Support the RS232 Serial interface.
Support Remote wake-up and intelligent power management.
Over 1Mbps data transfer rate.
System Requirements:
Intel-Compatible 486DX-66 MHz CPU or higher.
One standard USB port.
Windows 98, Windows 98SE, Windows 2000, Windows XP, Mac 8.6 or higher.
Additional Links:
Vigor USB to Serial Converter (VUC-2102)
---