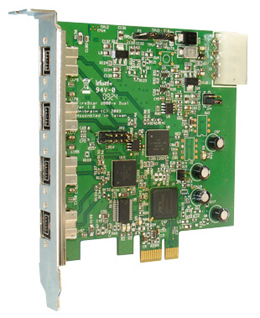 Unibrain FireBoard800-e Pro Dual Bus 1394b OHCI PCI-Express Adapter (1236)
Part Number: 1236
OS Support: Windows XP/Vista/7/8, 2003/2008 Server, 32/64 bit; Mac OS X 10.4.x or later; Linux

FireBoard800-e Pro Dual is Unibrains next generation of 1394b PCI Express x1 add-in interface card, which features two (2) 1394b (Firewire-800) busses with two (2) 1394b 9 pin ports allocated for each bus.
Fireboard800-e Pro Dual is ideal for multi-camera acquisition systems that require fast and reliable data transfers to the host system.
The card allows simultaneous image acquisition from up to 16 cameras at total data throughput of 160 MB/sec using a single x1 PCIe slot, and utilizes deep isochronous FIFO's that guarantee an uninterrupted data flow.
Features:
Dual LSI FW643-e, High Performance 1394b to PCI Express OHCI integrated Link/PHY host controller chipset.
OHCI Compliant/Compatible with any FireWire device or peripheral.
Serial data rates: 400Mbps and 800Mbps.
Four (4) fully backward compatible, Bilingual 1394b, 9 pin ports at up to 800 Megabits per second (Mbit/sec).
Internal power connector (big IDE) for extra power stability.
Industrial 1394b screw lock cables support.
RoHS and WEEE compliant.
Sixteen (16) independent isochronous transmit/receive DMA channels.
160 Mbytes/sec total bandwidth throughput.
Operating Temperature: 0~65' C, Storage Temperature: -20 ~ 100 C.
Humidity Operating : 0 ~ 80% RH, Non-condensing.
Specifications:
Enhanced with the 1394 OHCI 1.2 draft specification for 1394b Phy full operational compliance.
OHCI 1.0 backwards compatible.
Isochronous receive dual-buffer mode.
Supports enhanced isochronous transmit skip/overflow.
Enhanced CSR (configuration status register) implementation.
Autonomous configuration ROM update.
Enhanced power management support.
Enhanced self-ID protocol including selfIDComplete2 event.
Enhanced FIFO characteristics:

8 Kbyte isochronous transmit FIFO.
4 Kbyte asynchronous transmit FIFO.
8 Kbyte isochronous receive FIFO.
8 Kbyte asynchronous receive FIFO.

Dedicated asynchronous and isochronous descriptor-based DMA engines.
Eight isochronous transmit contexts (for each bus).
Eight isochronous receive contexts (for each bus).
Prefetches isochronous transmit data.
Supports posted write transactions.
Supports parallel processing of incoming physical read and write requests.
Allows multiple outstanding requests at DMAs.
Segments transfers into PCI Express-sized requests.
1394b integrated Bilingual PHY and Link
Cycle master and isochronous resource manager capable.
Supports 1394a-2000 and 1394b acceleration features.
Fully supports provisions of IEEE 1394a-2000 and 1394-1995 standard for high-performance serial bus.
Supports registers to indicate power class modes.
Supports arbitrated short bus reset to improve utilization of the bus.
Supports ack-accelerated arbitration and fly-by concatenation.
Supports multispeed packet concatenation.
Supports Phy pinging and remote Phy access packets.
Fully supports port disable/suspend/resume.
Supports Phy-link interface initialization and reset.
Fully interoperable with Firewire and i.LINK implementation of IEEE 1394-1995.
PCI Express:
PCIe packet switch compatible with PCI Express Base specification rev. 1.1
Fully Non-Blocking Switch architecture using 3 PCIe lanes (x1)
Switch architecture with low packet cut-thru latency.
Maximum payload size 1024.
end-to-end CRC protection (ECRC) and Poison-bit support.
Supports eight user-programmable traffic classes.
Interrupts via legacy INTx interface or message signaled interrupt (MSI).
Supports advanced error reporting (AER).
Supports multiple concurrent transactions for optimum bandwidth utilization.
Supports 64-bit and 32-bit platforms.
Integrated 2.5 Gbits/s SerDes for serial data transfer.
Supports power management link and device states: L0, L0s, L1, L2/L3 and D0.
Low power consumption that is fully compliant with the PCI Express power management specification.

External Power (+12V) Connector:
All Fireboard800-e Pro Dual power for the FW643E controller and any bus power provided to the 1394 connectors are derived from the standard voltages on the PCI-Express connector. However due to the limited availability of 12-V current (for 1394 bus power) an option has been provided to power 12-V rail from an external standard power connector if using bus-powered 1394b devices which require more than the 500 mA that can be drawn (by specification) from the PCI Express x1 Connector.
12V DC - CAUTION: additional power supply voltage on the FireWire bus should be equal to 12V.
FCC / CE Compatibility and EMI, EMC Testing:
Fireboard800-e Pro Dual has successfully passed the EN 55022 (Emissions Environment) and EN 55024 (Immunity Environment) EMI test procedures. Subsequently, this product is fully CE compliant and assigned with the CE mark. Moreover the board is FCC compliant.
Software Support:
Windows XP/Vista/7/8, 2003/2008 Server, 32/64 bit.
Mac OS X 10.4.x or later.
Linux
Additional Links:
LSI FW643E Chip Specifications
Unibrain FireBoard800-e Pro Dual Bus 1394b OHCI PCI-Express Adapter (1236)
---