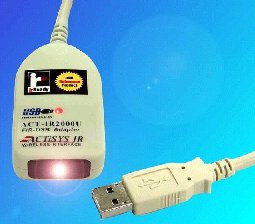 Actisys IrDA-USB FIR Computer Adapter (IR2000UL)
Part Number: IR2000UL
Compatibility: Windows 98/2000/ME/XP driver
IrDA Adapter from Actisys provides a bridge between your Laptop and Desktop computers. Built in one foot cable.
The ACT-IR2000UL IrDA USB adapter provides a bridge to the USB port of a desktop PC, allowing high speed 4M bps wireless data transfer for record synchronization, file back-up and network access. No external power is needed!

The ACT-IR2000UL adapter is compatible with Windows 98, ME, 2000 and XP. The IR2000UL is bundled with the Windows driver, which allows wireless data communication from laptop, PDA, digital camera, cellular phone, data terminal, mobile medical units and other portable devices to a PC with plug-and-play simplicity.

The ACT-IR2000UL is fully compliant to USB specification 1.1,data rates of 12Mbps and IrDA specification 1.1, data rates of 9.6, 19.2, 38.4, 57.6, 115.2Kbps and 4Mbps. It can reach a communication distance of 3cm to 100cm, it is bus-powered device and no external power supply needed.

The ACT-IR2000UL does not occupy PCs COM or Parallel port and has no complicated hardware resource setting and conflict, such as IO address / IRQ / DMA numbers. It is PNP (Plug And Play) device and its installation is much simpler than any other IR adapters.

The ACT-IR2000UL shows full interoperability of USB devices and can work together with hundreds of other USB devices on the same PC if you have enough USB hubs. You can unplug it at any time if you have no enough USB ports on your PC and need connecting other USB device temporarily. You need not remove and reinstall its driver for it.

Act-IR2000UL:
Infra-Red Wireless USB Interface Adapter.
IR head can be easily attached to any convenient desktop location using Velcro.
Ruggedized version, IR2000UR is also available.
The ACT-IR2000UL bundles with easy, 1-step Windows 98/2000/ME/XP driver. It comes in two cable lengths: IR2000UL (120cm or 4 ft cable) for desktop PC and IR2000UL-S (10cm or 4in short cable) for notebook.
Additional Links:
Actisys IrDA-USB FIR Computer Adapter (IR2000UL)
---