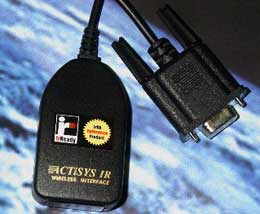 Actisys IR 220L: IrDA Com-Port Serial Adapter (No ACTiLinkACPI-SW)
Part Number: ACT-IR220L
OS Support: Model already built into Windows 98/ME/2000/XP/Win7
The ACT-IR220L attaches to the RS232 serial port of desktop PC to give the user wireless data transfer for record synchronization, file back-up and network access, directly from IR-capable notebook PCs and PDAs. No external power is needed! (No ACTiLinkACPI-SW).
These ACTiSYS adapter models have already been built into 98/ME/2000/XP/Win7 and many PC link software for IR-capable PDA, H/PC, data terminal and portable medical devices! No additional IR driver installation is needed!
IR220L is IrDA-1.0 compatible that has data rates of 9.6, 19.2, 38.4, 57.6, 115.2K bps. It can reach communication distance of 100cm with no external power! It is applicable to any IR communication protocal specifications.

Features:
Infra-Red Wireless Serial Interface Adapter.
IR head can be easily attached to any convenient desktop location using Velcro.
Ruggedized version, IR220LR is also available.
Specifications:
SUB-CARRIER/IR INTERFACE:
-IR220L: Compatible with IrDA-1.0 only
COMMUNICATION DISTANCE and SPEEDS:
-IR220L: Communication speeds programmable at 9.6, 19.2, 57.6, 115.2K bps and distance of 100cm.
CONNECTORS:
An integral 3.28ft +/- 0.1ft (100cm +/- 3cm) cable with DB9F connector.
POWER SOURCE:
RS232 port power only. No external power required.
POWER CONSUMPTION:
0.30W(Peak)
Additional Links:
Actisys IR 220L: IrDA Com-Port Serial Adapter (No ACTiLinkACPI-SW)
---