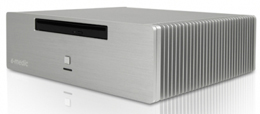 Baaske e-medic Fanless Mini Computer, Silence ST-M, i5-3570T 2.3 Ghz (2007402)
Part Number: 2007402
Processor: Intel Core i5-3570T 2.3 Ghz
Memory: 4 GB

The e-medic Silence ST-M computer is a mini-ITX computer designed to meet demanding patient safety and performance requirements in a range of semi-critical and non-critical patient environments. These computer systems are according to medical standards approved and powerful medical computer systems that are ideal for long-term use.
Modern interfaces such as USB 3.0 and e-SATA, make the e-medic Silence ST-M a modern and sustainable technology solution. The special disinfectable aluminum case and fanless 3-channel heat pipe system is ideal for many hygienic and noise-sensitive environments. Powered by 3rd Generation Intel processors, the e-medic Silence ST-M delivers real-time medical computing with reliability for heavy use and lengthy periods of 24/7 use. You can also be assured of a tested and certified computer that meets strict EN60601-1 medical electrical equipment standards.

Medical fanless mini computer for hygiene-sesitive areas
Low maintenance, silent, fanless mini computer that meets EN 60601-1
New 3rd Generation Intel Core. Mainboard: Intel H77, max 16 GB RAM, RAM-Slots: 2, 1 HDD / SSD, closed front or DVD-RW e-SATA.
Intel HD Graphics 2500 Direct X11
Flexible arrangement: wall mountable on the Wall/ Vesa-mount or table support shaft.
Small, compact and light only 4 kg
Sealed, disinfect-able housing case.
Modern with USB 3.0
Temperature-stable and silent - using a specially designed 3 channel heat pipe.
Warranty up to 5 years with spare parts in advance.
Technical Data:
Processor: Intel Core i5-3570T 2.3 Ghz, 3 MB Cache
Mainboard: Intel H77
Memory: 4 GB
RAM-Modules: 2
Hard Disks: 500 GB; 24/7
Optical Drive: DVD-RW
Graphics: Intel HD Graphics 2500 Direct X11 (Tripple View)
Cooling System: 3-channel heat pipe with Hard Drive cooling system
Operating System: Windows 7 Pro with Windows XP Downgrade option
Additional Links:
Datasheet
Manual
Baaske e-medic Fanless Mini Computer, Silence ST-M, i5-3570T 2.3 Ghz (2007402)
Silence ST-M Back and Internal View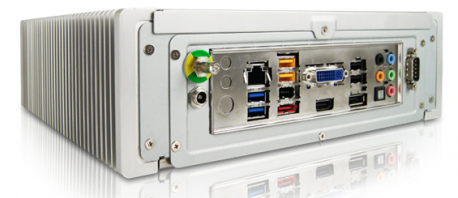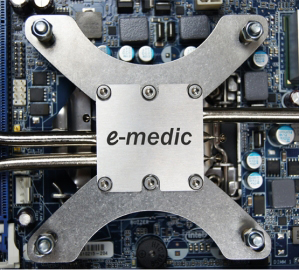 ---