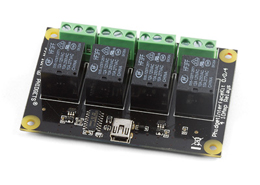 Phidget Interface Kit 0/0/4 Relay Output (1014)
Part Number: 1014
The PhidgetInterfaceKit 0/0/4 Provides a convenient way to interface your PC with various higher-voltage devices such as incandescent bulbs, high-power relays, and motors. The 1014 contains 4 Relay Outputs for switching AC or DC power; the relays are Single Pole Double Throw (SPDT).
Note: This board is not suitable for switching signals. It takes at least 100mA of current to bridge the oxide layer that forms on the relay contacts, and most signals will not meet this requirement. If you need to switch signals, check out the 1017 - PhidgetInterfaceKit 0/0/8.

Product Features:
This board has 4 SPDT mechanical relays rated at 250VAC/10amp or 100VDC/5amp.
Comes packaged with:
A 3018 - Mini-USB cable 180cm
A Hardware mounting kit (4 nuts and bolts (M3), 4 plastic spacers)
Additional Links:
User Guide
Mechanical Relay Primer
Mechanical Drawing
Download 3D Step File
Phidget Interface Kit 0/0/4 Relay Output (1014)
---