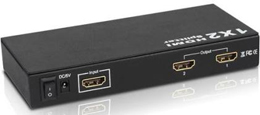 Vigor HDMI 1.3b 2-port Splitter (VHD-1020)
Part Number: VHD-1020
Supports: HDMI 1.3b
The HDMI Amplifier Splitter distributes one input of the HDMI signal into the two identical outputs simultaneously. The series of this product has the ability of buffering and amplifying. Each amplifier splitter's output can achieve long distance transmission of HDMI signal of more than 15 meters.
When two or more products are cascaded, they can create a larger distribution and longer in length. The HDMI Amplifier Splitter offers solutions for HDTV retail and show site, HDTV, STB, DVD and Projector factory, noise, space and security concerns, data center control, information distribution, conference room presentation, school and corporate training environments.

Features:
The series of the HDMI Amplifier Splitter have many features that enable them to perform in a superior manner. Among those features you will find:
Easy to Use: Install in seconds, no need of setting.
Supports the Video Amplifier Bandwidth up to 2.25Gpbs/225MHz
Cascaded: Large distribution achieved by cascading the HDMI Amplifier Splitter.
Support HDCP
FCC CE Certified

Specifications:
Signal Inputs/Output:
Input Video Signal: 0.5 -1.0 volts p-p
Input DDC Signal: 5 volts p-p (TTL)
Maximum Single Link Range: 1920X1200, 1080P
Output Video: HDMI 1.3b+ HDCP1.0/1.1/1.2
Video Format Supported:
VGA: 640x480,800x600,1024x768,1920x1200
DTV/HDTV: 480i/576i/480p/576p/720p/1080i/1080P
Digital Signal I/O:
HDMI Compliance: HDMI 1.3b
Operating Frequency: Resolutions(HDTV):
Interlaced(50 and 60Hz): 480i,576i,1080i
Progressive(50 and 60Hz): 480p,576p,720p,1080p
Warranty:
Limited Warranty: 1 Year Parts and Labor
Environmental:
Operating Temperature: 0℃ to +70℃
Operating Humidity: 10% to 85 % RH (no condensation)
Storage Temperature: -10℃ to +80℃
Storage Humidity: 5% to 90 % RH (no condensation)
Additional Links:
Vigor Product Page
Vigor HDMI 1.3b 2-port Splitter (VHD-1020)
---