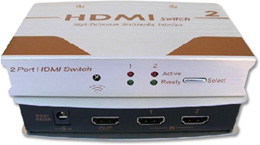 Vigor HDMI 2-port Switch (VHS-2010)
Part Number: VHS-2010
Resolution: 1080p, 1920x1200
The 2x1 HDMI Switch enables effortless HDMI switching between two sources using a single high definition display. A simple and reliable solution, the HDMI Switch links any two HDMI sources (DVD players and satellite set-tops) to one HDMI display.
Share Two HDMI Sources with a Single HDMI Display!
It eliminates the need to disconnect then reconnect multiple HDMI sources, save time by providing a fundamental tool that brings it all together behind the scenes.

Features:
Saves money on hardware without needing to purchase multiple high definition displays.
Saves space to work a single high definition display with both DVD players and satellite set-tops.
Connected and accessible.
Maintains high resolution video and achieves sharp HDTV resolutions up to 1080P.
Compatible with all HDMI-equipped and HDCP-enabled HDTV devices.
Easy to install and simple to operate.
Specifications:
2xHDMI Source Input Ports/Display Device Output Port.
Remote Control included allowing you fast directly access channels.
HDCP Compliant.
Single Link Range: 1920x1200.
Vertical Frequency Range: 60 Hz
Power Supply DV9V 500mA
Additional Links:
Vigor HDMI 2-port Switch (VHS-2010)
---