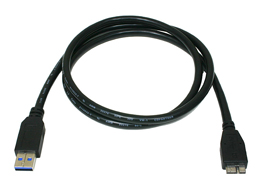 Newnex SuperSpeed USB 3.0 A to Micro B Cable, 1m/3ft (US2-AMCB-1M)
Part Number: US2-AMCB-1M
Length: 1 meter = 3.3 feet
Connectors: A-plug to Micro B-plug
SuperSpeed USB 3.0 A to Micro B. Connect the latest USB 3.0 Micro B devices to your computer with this certified cable.
SuperSpeed USB 3.0 has transmission speeds of up to 5 Gbit/s, which is 10 times faster than USB 2.0 (480 Mbit/s). USB 3.0 significantly reduces the time required for data transmission, reduces power consumption, and is backwards compatible with USB 2.0.
Additional Links:
Newnex SuperSpeed USB 3.0 A to Micro B Cable, 1m/3ft (US2-AMCB-1M)
---