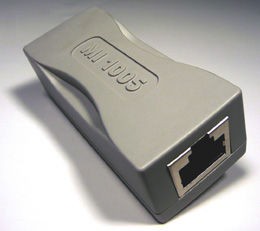 Baaske Medical Ethernet Network Isolator 5kV, MI 1005 (2005674)
Part Number: 2005674, MI 1005

Medical Ethernet Isolation 5000 Volts AC
The MI 1005 network isolation module is suitable for the use in 10/100/1000-BaseT Ethernet Gigabit networks with full IEEE 802.3ab compatibility and no restrictions in the maximum cable length. If PCs or other electrical devices are connected to an Ethernet network in the patient's environment inadmissible leakage currents can appear from other devices that are also connected to network. The MI 1005 blocks these currents and voltages over the copper network.
The MI 1005 device has been tested according to IEC / DIN EN 60601-1 and IEC / DIN EN 60601-1-2 in an accredited laboratory of a notified body with certificate.
The MI 1005 device has been manufactured using UL94-V0 complying materials only. Compared to other network isolation devices that are available on the market the MI 1005 is the only device available with a signal isolation strength of 5000 Volts AC within full IEEE 802.3ab 10/100/1000 Gigabit Network compatibility and no restrictions in the maximum cable length.

Technical Data
Article No. : 2005674
Data Speed : 10/100/1000 MBit/S
Isolation Voltage : 5000 Volts AC
Conformity Ethernet : IEEE 802.3ab
BOM : User Manual
Standards : IEC / DIN EN 60601-1, IEC / DIN EN 60601-1-2
Additional Links:
MI-1005 Literature (PDF)
MI-1005 Insulation Statement (PDF)
MI-1005 Press Release
ISO 9001:2008 Certificate
Baaske Medical Ethernet Network Isolator 5kV, MI 1005 (2005674)
---