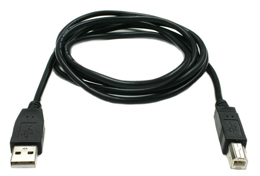 USB 2.0 A-B Cable - 2m/6.5ft (USB2-AB-2M)
Part Number: USB2-AB-2M
Length: 2 meter / 6.5 feet
Connectors: A plug to B plug

Connects your computer to any USB 2.0 device with Type B female port. This USB 2.0 certified cable allows you to connect hubs and peripherals such as printers, scanners, and storage drives. Supports USB speed up to 480Mbps.
Features:
All speeds to 480 Mbps, USB 2.0
A plug to B plug
Double-ended Assembly
24/28 AWG / 2x28 AWG (Signal, Twisted Pair)
Color: Black
Additional Links:
USB 2.0 A-B Cable - 2m/6.5ft (USB2-AB-2M)
---