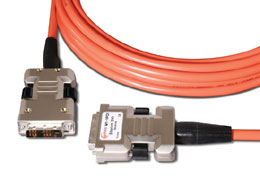 Opticis Point-to-Point Hybrid DVI Cable - 30m/98ft (M1-1P0E-30)
Part Number: M1-1P0E-30
Length: 30 meter / 98 feet

Point-to-Point DVI hybrid cable, M1-1P0E has four (4) multi-mode fibers for TMDS transmission and copper wires for DDC/HDCP in a jacket. It transmits uncompressed WUXGA (1920x1200) 60Hz, 1080p DVI signal up to 100m (328feet). It supplies +5V DC power either from video sources or external power adapter in the shipping group.
Features:
Compact design of end connector allows direct connection to the host video card and display.
Auto-power switching.
Hybrid cable with four (4) multi-mode fibers for TMDS transmission and copper wires for DDC/HDCP.
Extends WUXGA (1920x1200), 60Hz and 1080p up to 100m (328feet).
Supports bit rate up to 1.65Gbps per channel.
Operating temperature: 0 ~ 50℃.
Storage temperature: -30 ~ 70℃.
Input power: +5V 1A.
Size (WDH): 39 x 53 x 15.4mm
Shipping Group:
M1-1P0E optical cable: x1
+5V 1A adapter: x1
User manual
Additional Links:
Data Sheet (.pdf)
Brochure (.pdf)
User Manual (.pdf)
Opticis Point-to-Point Hybrid DVI Cable - 30m/98ft (M1-1P0E-30)
[ Connection Diagram ]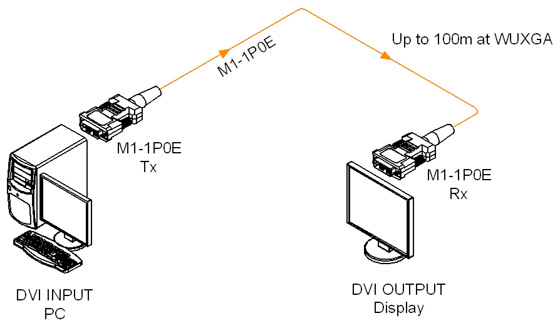 ---