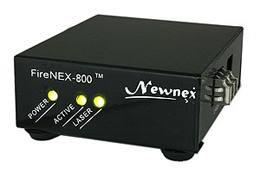 Newnex FireNEX 800 Mbps 1394b Optical Repeater (FireNEX-800AP)
Part Number: FireNEX-800
OS Support: Win, Mac and Linux
The Newnex FireNEX800 optical repeater is the world's first 1394b optical repeater! Utilizing an IEEE1394 PHY and optical transceiver, the FireNEX800 is capable of sending IEEE1394 signals across a optical fiber cable up to 500 meters in length! The FireNEX800 is contained within a small box slightly larger than a deck of cards, which makes it inobtrusive and compact, allowing you to place it on a desktop already crowded with other things.
The Newnex FireNEX800 can also be used as a standard IEEE1394b repeater, extending your signal an additional 4.5 meters. The real power, however, is in its optical connection. Setting up the FireNEX800 is quite simple. Using a LC optical connector, plugging in the optical connection is without confusion or difficulty. It takes only minutes to setup, and there is no configuration necessary, like all IEEE1394 compliant hardware. The FireNEX800 will work with 1394b at speeds of 800, 400, 200 and 100 Mbps, and with 1394a at speeds of 400, 200 and 100 Mbps. The FireNEX 800 needs LC/LC optical cable.

A FireNEX800 SET is two FireNEX800 optical repeaters, and one 120VAC/12VDC DC power supply and a manual. Optical cable and Firewire cables not included.

Specifications:
Two IEEE 1394b copper bilingual ports.
One 1394b optical port with LC connector.
Works with both PCs and Macs
Low power consumption: 3W (DC12V/0.25A)
Weight: 170g
Compact size: 80x68x27 mm
MMF Glass optical fiber
Full Duplex Data Rate at 100/200/400/800 Mbps
Reach up to 500 meters
Backward compatible with 1394a standard
One year manufacturer warranty

Note: The power adapter provided by Newnex is UL certified. For countries that need certifications for power other than UL, please purchase the similar power adapter with the special power certification from the local stores.
Additional Links:






Newnex FireNEX 800 Mbps 1394b Optical Repeater (FireNEX-800AP)
---