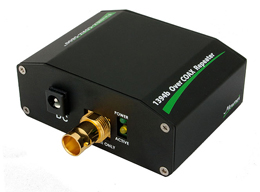 FireNEX COAX 800 Mbps 1394b Repeater (FireNEX-COAX-S800)
Part Number: FireNEX-COAX-S800
Connections: FireWire 9-pin; COAX
The FireNEX-COAX-S800 uses flexible coax cabling, etc. There are several advantages in using a standard 75 COAX cable that. It has excellent EMC performance, low cost connections, enables terminations by the end user, and the possibility of using existing cabling infrastructure. Since FireNEX-COAX-S800 repeater has two 1394b ports it can also be used as a hub for daisy chain connections.
A FireNEX-COAX-S800 SET includes two FireNEX-COAX-S800 repeaters, and a manual. A DC power jack lets you connect an optional power supply, such as the FIRENEX-POWER. Whenever you purchase 2 FireNEX repeaters we consider it a set. COAX cable and FireWire/IEEE1394b cables are not included. FireNEX-COAX-S800 comes with one-year manufacturer warranty.


Two IEEE1394 9 pin ports.
One standard BNC COAX port.
Works with both PCs, Macs and Linux.
Light Weight: 140g.
Compact size: 78x30x70 mm.
Bus powered or self powered.
Data rate: 100/200/400/800 mbps.
Standard COAX cables.
Reaches up to 60 meters.
Low Power Consumption: 3W (DC12V/0.25A).
Industrial standard screw locking for 1394b ports.
Additional Links:
FireNEX COAX 800 Mbps 1394b Repeater (FireNEX-COAX-S800)
---