Automated Camera Tracking
Eagletron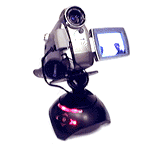 Eagletron USB PowerPod - Robotic Control for Professional DV Cameras

The Eagletron PowerPod is a computer-controlled pan/tilt/zoom (ptz) base for camcorders. After mounting your camcorder on a PowerPod (any standard DV camcorder works), you can turn the camcorder up, down, left, and right under the control of your PC. You can even control the optical zoom of compatible camcorders. PowerPod comes with the same sophisticated control software as the TrackerPod, giving you features like Internet remote control, programmable video capture, and motion detection.
Maximum weight of camcorder or DV camera: 3 lbs
OS Support: Windows 98SE, ME, 2000, or XP.
---

Eagletron USB TrackerPod - Robotic Control for Webcams

The TrackerPod - for webcams. The award-winning robotic tripod that lets your webcam look around. Connects to your computer via USB.
Maximum weight of webcam: 1 lb
Operating system: Windows 98SE, ME, 2000, XP or Vista
---

Eagletron PowerPod-IR: Robotic Control without a Computer

Ever need to video yourself? Mounting your camcorder to a tripod and pointing it at yourself works, as long as you dont move. But theres a better way. Introducing the IR-Pod, a compact motorized base for camcorders controlled using a TV-style remote control.
---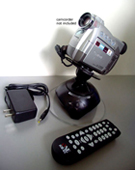 Eagletron MotorPod-IR Motorized Tripod for Cameras under 2lbs

Ever need to video yourself? Mounting your camcorder to a tripod and pointing it at yourself works, as long as you don't move. But now there's a better way.
Introducing the IR-Pod, a compact motorized base for camcorders controlled using a TV-style remote control.
Part Number: MotorPod-IR
---
---