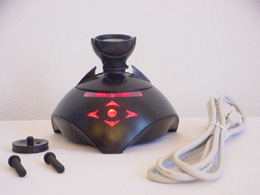 Eagletron USB TrackerPod - Robotic Control for Webcams
The TrackerPod - for webcams. The award-winning robotic tripod that lets your webcam look around. Connects to your computer via USB.
Maximum weight of webcam: 1 lb
Operating system: Windows 98SE, ME, 2000, XP or Vista
Hardware Specifications:
Webcam not included: you can use almost any USB webcam with TrackerPod.
Maximum weight of webcam: 1 lb.
Maximum angles of rotation: 160 degrees pan and 110 degrees tilt.
Maximum speed of movement: 100 degrees per second.
Digital zoom from 50% to 300% available for via software.
TrackerPod Interfaces to your PC via USB port.
Webcam interfaces separately via USB.
TrackerPod powered by USB port or with optional external power supply if your computer's USB port cannot provide the needed current.
Webcam mounts on to TrackerPod using standard webcam 1/4" tripod mounting thread found on the bottom of most webcams; shoe plate and rubber fasteners available to accomodate non-standard webcams.
Minimum System Requirements:
Operating system: Windows 98SE, ME, 2000, XP or Vista.
Processor: 133 MHz or faster; for best performance, 200 MHz or faster recommended
Memory: 32MB RAM
Interface: available USB port
Disk space: 20MB available hard disk space


Remote Pan/Tilt
The TrackerPod comes with control software that lets you control its movement from your PC with a click of your mouse or remotely over the Web from anywhere in the world. You can securely log in when you're away to look around your home or business or you can offer access to Internet friends.

Person Tracking / Face Tracking
The TrackerPods sophisticated control software is famous for its ability to automatically follow you as you move around by using skin tone to distinguish you from the background.

Add Pan/Tilt to Yahoo / MSN / NetMeeting Messaging
The TrackerPod integrates smoothly with all popular video chatting systems. Move freely as you video chat and let TrackerPod take care of keeping you in view. Give chat partners the the ability to move your webcam where they want to. Webcam Surveillance
An important advantage of pan/tilt for surveillance users is that you can keep an eye on a large area with just one webcam. You move you webcam to look where you want to as needed instead of buying several cameras and mounting them in different places. Remember, you can log in over the Internet to see video and move the webcam. You can also configure TrackerPod to move through a set series of positions continuously, capturing still images to disk at regular intervals for automated surveillance.

An Affordable Robotic Vision System
Think of the TrackerPod as a robotic cameraman that makes your webcam come robotically alive, panning, tilting, and zooming under your computer's control.
Additional Links:






Eagletron USB TrackerPod - Robotic Control for Webcams

---