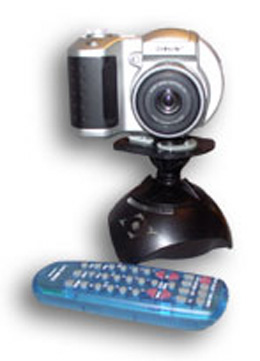 Eagletron PowerPod-IR: Robotic Control without a Computer
Ever need to video yourself? Mounting your camcorder to a tripod and pointing it at yourself works, as long as you dont move. But theres a better way. Introducing the IR-Pod, a compact motorized base for camcorders controlled using a TV-style remote control.
Unlike our standard PowerPod product, the IR-Pod needs no computer or software. Just mount your camcorder to it, plug in the power cord, grab the remote control, and you're off.
Just push buttons on the remote control to turn your camcorder up, down, left, or right as you record yourself.
If you can change channels on your TV you can use the PowerPod-IR! Features:
Does not need a computer or USB connection.
No need to be next to your keyboard or mouse.
Controlled by credit card sized TV-style remote control (not as shown).
Sample Uses
Use it while video conferencing to adjust the camera without getting up.
Keep your camcorder on yourself as you walk around the room.
Mount a camera in a hard-to-get-at spot but adjust its position easily whenever you want.
Use with a still camera to take pictures of yourself (still camera needs its own remote to activate photo capture).

Notes:
*All pods now ship in black polycarbonate (high tech plastic) shells and do not include cameras.
* Remote controls are now credit card sized and NOT as shown.
*All pods now ship with a 1/4 inch, 20 threads per inch (standard tripod) nut adapter; for connecting to photographic tripods and rigging equipment.
Additional Links:






Eagletron PowerPod-IR: Robotic Control without a Computer

---