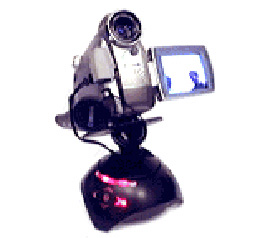 Eagletron USB PowerPod - Robotic Control for Professional DV Cameras
The Eagletron PowerPod is a computer-controlled pan/tilt/zoom (ptz) base for camcorders. After mounting your camcorder on a PowerPod (any standard DV camcorder works), you can turn the camcorder up, down, left, and right under the control of your PC. You can even control the optical zoom of compatible camcorders. PowerPod comes with the same sophisticated control software as the TrackerPod, giving you features like Internet remote control, programmable video capture, and motion detection.
Maximum weight of camcorder or DV camera: 3 lbs
OS Support: Windows 98SE, ME, 2000, or XP.
Detailed Hardware Specifications:
Maximum weight of camcorder or DV camera: 3 lbs
Minimum weight of camcorder or DV camera: 0.75 lbs - if your DV camera is lighter than 0.75 lbs, use a TrackerPod instead.
Maximum angles of rotation: 160 degrees pan and 110 degrees tilt.
Maximum speed of movement: 53 degrees per second.
Optical zoom control available for Camcorders that use an IEEE 1394 (Firewire) interface and support the zoom command set (eg. Panasonic NV-GS70, Canon ZR in US, Canon MV in Europe)
Sony camcorder users: a special model of PowerPod, the PowerPod-LANC offers you optical zoom control
Digital zoom from 50% to 300% available for all camcorders
PowerPod Interfaces to your PC via USB port
Camera video interfaces separately via Firewire, USB, or a video capture card
Powered by USB port or by optional power supply
Camera mounts/unmounts easily with an included quick-release camera shoe.
Camcorder Requirements:
Camcorder over 0.75 lbs and under 3 lbs in weight.
Standard camcorder tripod (you need to mount the PowerPod to a tripod)
Standard 1/4" #20 mounting thread screw on camcorder.
Firewire or USB or video capture card interface between camcorder and PC
Optical zoom control available for Camcorders that use an IEEE 1394 (Firewire) interface and support the zoom command set (eg. Canon ZR in US, Canon MV in Europe)
Digital zoom from 50% to 300% available for all camcorders
Minimum System Requirements:
Windows 98SE, ME, 2000, or XP.
Genuine Intel PentiumTM, Pentium II, Pentium III, AMD K6, AMD K6-2 processor running at 133 MHz or higher; for best performance, 200 MHz or above is recommended
32MB RAM
Available USB port
CD-ROM drive
Display adapter cabable of 24 bit color at 640x480
Windows compatible sound card and microphone (for voice command features)
Modem or LAN access to the Internet at 28.8Kbps or faster required (for video conferencing)
Web browser such as Microsoft Internet Explorer 4.0 or higher
20MB available hard disk space


Pan/Tilt for Any Camcorder
PowerPod turns your camcorder up, down, left, and right to view what you want. You control movement with simple mouse-clicks or voice commands.

Use Camcorder as Webcam
PowerPods bundled software lets you use your camcorders video in any software designed to be used with a regular webcam. Use your camcorder for video-chatting and webcamming.

Optical Zoom
Control your camcorders optical zoom from your computer if your camcorder has an IEEE 1394 Firewire interface and supports the zoom command set. If you own a Sony camcorder, see our special model called PowerPod-LANC which offers optical zoom control for your camera.

Digital Zoom
Digital zoom is provided via software for all camcorders. Use it to scale the camera image from 50% to 300% for detailed close-up views.

Surveillance with your Camcorder
Set your PowerPod/Camcorder to scan a room or area in a simple or complex pattern you specify. Useful for monitoring banks, lobbies, workshop, parking lot, daycare, workrooms, etc.

Motion Tracking
TrackerCam software is tuned to track all human skin tones and can automatically pan and tilt to track the nearest person as they move around. Quality of tracking depends on the quality of your camcorder and the subjects distance from the camera.

Video Capture
Capture video from your camcorder to disk.

Remote Monitoring and Pan Tilt
Log in to your computer over the Internet from anywhere in the world to view live video from your camcorder and to move it. You can also view a history of the movement captured by your PowerPod and Camcorder. With our surveillance, motion detection, tracking, and remote control features, your PowerPod can monitor an entire room by detecting, tracking and recording movement.

Bundled software
PowerPod comes free with TrackerCam Software. Optionally, you can also purchase DVdriver Software to allow you to use your camcorder's video in multiple applications simultaneously or to remotely control optical zoom from over the Internet.
Additional Links:
Tom's Hardware Review





Eagletron USB PowerPod - Robotic Control for Professional DV Cameras

---