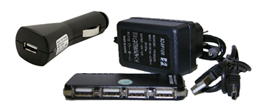 Portable USB 2.0 4-port Hub w/Car Lighter Adapter
This kit includes Vigor Electronics 4-Port USB 2.0 Hub, plus a USB car cigar lighter adapter to power the hub while traveling. Has everything you need for a powered hub on the move, perfect for laptops.
From 9 to 16 VDC battery to 100 to 240 VAC wall outlet, plug this powered Hub into just about any fixed or mobile power source and get USB Hub power to almost any device.

Features:

Hub controller passes all USB-IF tests under TID#20000154
Fully compliant with both standard USB specifications = USB 2.0 and USB 1.1
High-Speed data transfer rate up to 480 Mpbs
Support both Self-powered and USB Bus-powered modes
Over-current detection and over voltage protection
Provides four (4) downstream Type A USB ports
Includes USB Mini 5-pin to host Type A cable
Built-in Micro Regulator/Controller / overcharge protects for batteries, PDA/Pocket PC, Digital Camera,etc.
USB power cable set works with PDA/Pocket PC, many cell phones, many cameras, 2-way radio and many more electronic devices.
The best companion for on-the-go warriors ... constant current / stable voltage output.
All kit parts designed for multiple uses: 5-pin USB to host cable works with many PDAs, 12 VDC charger works with many Nokia and Motorola cell phones, 1/4" center positive 5 VDC /12 Watt wall wart power supply works with a huge variety of analog and digital devices and many DV and still cameras.
System Requirements:
any Windows laptop or Desktop = 98SE/ME/2000/XP/Vista/7
any Apple Mac laptop or desktop with OS8, OS9, OSX (any wild cat)
any portable or stationary Linux, Unix x86 with USB support
Package Contents:
USB 2.0 4Port Hub and host USB cable.
Universal 100/240 VAC 50/60 Power Adapter.
Universal USB Car Cigarette Charger/Adapter
USB Power Cable
Additional Links:
Vigor USB 2.0 4-port Hub (VUH-2204)
Black USB Plug-in Car Charger
Portable USB 2.0 4-port Hub w/Car Lighter Adapter
---