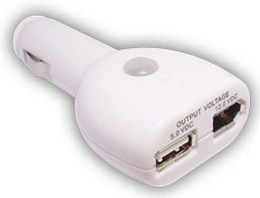 USB/FireWire Plug-In Car Charger
USB/FireWire connector provides charging power on the go. Fits all vehicles with 12V and 24V cigarette lighter adapter. Able to charge most USB and FireWire devices in your car.
The USB port is regulated to the strict standard of USB power specification; works with popular bus-charging devices such as USB link cable for PDA and cell phones and even with USB lamps.
The FireWire port outputs a steady and regulated current that is identical to your Apple FireWire port, so you dont have to worry about battery-butchering power surge from accelerating and braking in everyday commute.

Features:
Blue LED power indicator.
Provides FireWire bus-power and USB bus-power.
Simultaneous usage for both USB and FireWire charging.
Fits into any 12V/24V automotive DC power source.
Computer-tested and regulated electrical voltage/current, for both USB and FireWire; prevents battery-life reduction.
How to use:
Insert the adapter plug into your car cigar lighter socket.
Connect USB or FireWire or Both cables to the outlet on the adapter.
Connect to your iPOD, phone, camera, usb hub... any USB/FireWire device.
Simultaneously charge two devices at once.
For iPOD Shuffle, please insert Shuffle directly into USB port on adapter.
Additional Links:
USB/FireWire Plug-In Car Charger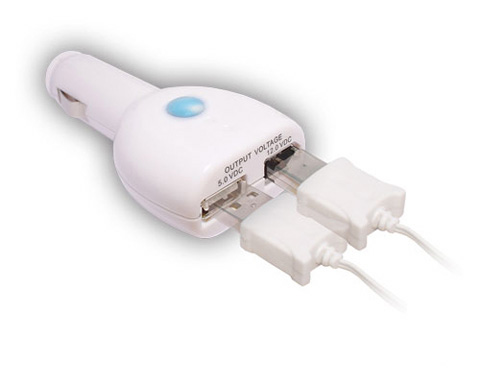 ---